Chinese
Chili Sesame Saucy Noodles
Heat Level: hot
Meet the Tastemaker
Meet the Tastemaker
About the Dish
About the Dish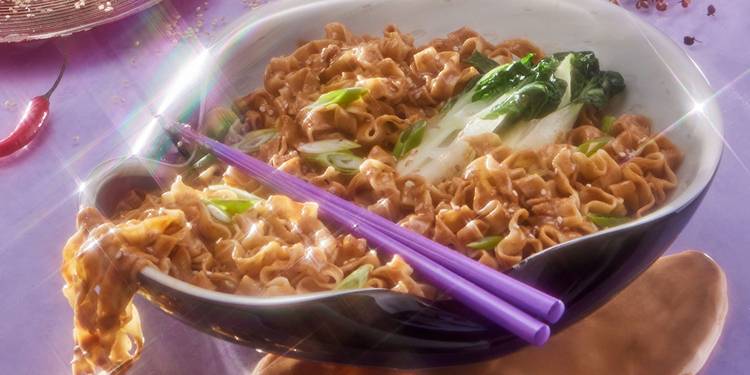 Chinese Chili Sesame Saucy Noodles
This aromatic, heat-forward noodle dish takes inspiration from dan dan noodles - the Sichuan classic known for its tingle. Typically served with preserved vegetables, minced pork, + scallions, this is a fan fave!
Bitter, Not Savory
I like several of their other products, namely, the Krapow sauce for proteins, but this was a complete mess. The noodles themselves were a great consistency and texture. However, the tangy, overwhelming flavor of vinegar ruined the experience. The sauce is spicy and has a nice burn, but the underlying taste of vinegar overwhelms any other flavors that are there. I ate about half a bowl before throwing the rest away. Others may like this, but I certainly didn't.
far too tangy
far too tangy. definitely wasn't not expecting that punch and felt very overwhelming and unbalanced. the photo on the box also shows the sauce being bright red and we were disappointed to see that it was brown :(
They are too tangy and leave a weird bitter after taste!
Well first off they are pretty easy to make just like any instant noodles! But the tangy and bitter taste is absolutely not very delightful atleast for me!
Too Vinegary
I really wanted to love these noodles but the vinegar flavor was just too strong for me. Other than that they were really good just the vinegar ratio was way too overwhelming.
Delicious!
Love the flavor and consistency of these noodles. Topped with some chicken and *chef's kiss*.
Restaurant Quality
I've been a sesame noodles 'addict' for as long as I can remember. Folks, these are restaurant-quality sesame noodles...at a not-so-restauranty price!
Welcome to Our House
@cylovesfrogs

@peggyeats

@deyasdishes

@platedbykrystal

@trinhdoesthings