Thai
Coconut Lemongrass Curry Saucy Noodles
Heat Level: medium
Meet the Tastemaker
Meet the Tastemaker
About the Dish
About the Dish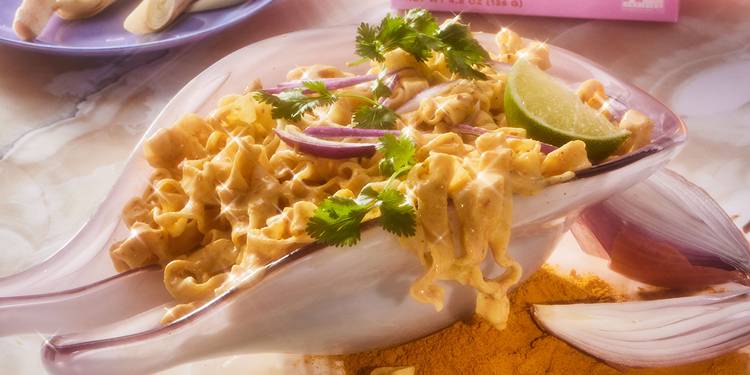 Thai Coconut Lemongrass Curry Saucy Noodles
Rich + creamy is the name of the game with this dish, a nod to the beloved khao soi. This fiery noodle is a reflection of trade patterns through Yunnan, Burma, Laos, and Thailand - culminating in a remarkably bold dish!
Great noodles!
I really enjoy this flavor & the noodles themselves are excellent! I also appreciate that they come in s round shape, which makes using a microwave ramen cooker when I'm at work much easier
Wish there was more sauce
Definitely recommend using only half of the noodles because the sauce barely coated the noodles that came with the package. Add some fresh cilantro and red onion so it's at least comparable to any restaurant.
Yum Yum, our favorite…..
So far! We started with the sampler box of all the noodle varieties and Coconut Lemongrass Curry was the first we tried. We immediately ordered a supply of it. It has a lower sodium level which we appreciate. We can't wait to treat our best friends with these noodles with shrimp. Thanks Omsom!
Pretty good
Good flavor but sauce is a bit thin and if you add any veg, meat, etc. there isn't enough sauce to go around.
Delicious!
So easy! So delicious! I took these noodles to a pot luck supper, and so many people commented on how tasty they were. I had to tell them I had no "recipe", only quick boiled the noodles and added the sauce. Then I gave them the information to order for themselves. I hope they do!
Coconut Lemongrass Curry Saucy Noodles
Welcome to Our House
@cylovesfrogs

@peggyeats

@deyasdishes

@platedbykrystal

@trinhdoesthings