Thai
Krapow Sauce
Heat Level: medium
How to Cook
Try it as
STIR-FRY SAUCE
GLAZE
MARINADE
About the Dish
About the Dish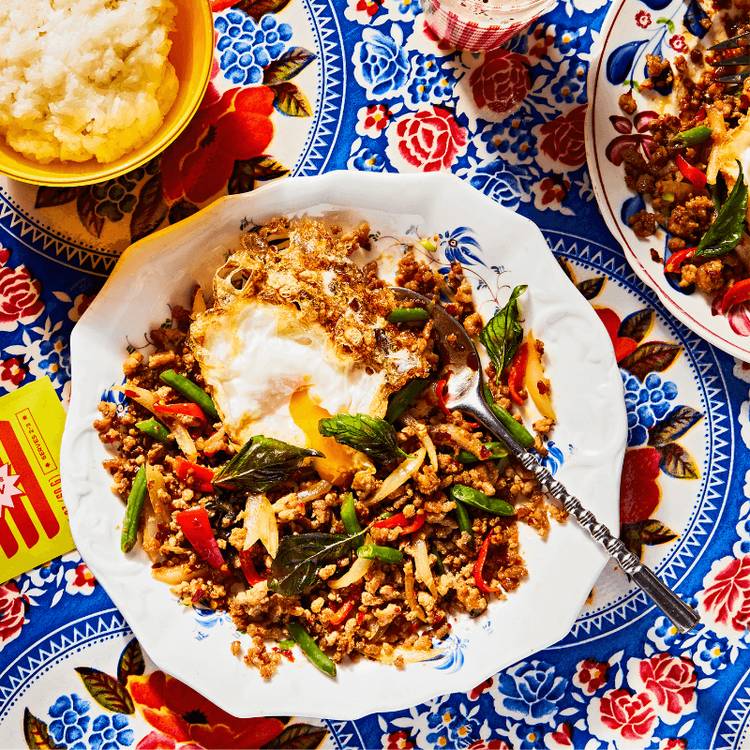 ผัดกระเพรา
Thai Krapow
Krapow, which translates to holy basil in Thai, is a chili basil stir-fry. This dish is a beloved street food (perfect for late night revelers) because of its ease + bold flavor!

This one is my absolute FAVORITE
OMG, idk, this one really tastes like it came from a good Thai restaurant. Is it Americanized? Maybe, I don't really think I'm a good judge of that. Is it delicious and easy? ABSOLUTELY. This one doesn't disappoint. We make a big batch of this with ground turkey and veggies and that is meal prep for at least 3 or so days. It's an easy way to take the stress out of cooking while still eating something delicious. Pro tip: if you are worried about sodium add extra protein and veggies and stretch the sauce!
Delicious
We love the OMSOM Krapow seasoning mix with ground turkey and fresh Thai basil. It's so delicious!
Beautifully balanced!
Delicious: impressed everyone at the table; altho tempted to take credit, I DID give full kudos to Omsom for doing such a good job combining spices/flavors in such an EASILY prepared dish! THANK YOU & YUM!!!
Consistently Easy & Delicious Lunch or Dinner
With Omsom's larb seasoning packet, lunch or dinner is only 15 minutes away. A pound of cooked ground chicken, a thinly sliced red onion, and a handful of cilantro combined with Omsom Larb seasoning produces a tasty and slightly spicy hot or cold main dish. The packets hold just the right combination of fish sauce and lime juice along with Omsom proprietary spices. One packet is enough for 3-4 servings. I always serve the larb on a bed of shredded lettuce and sliced quick pickled cucumbers. What a delicious and easy meal.
Sooooo good!!!!
I love this so much! So easy and really delish!
Yaaaasss
My fiancé came home while I was preparing this and he could not stop freaking out about how good it smelled. Tasted just as good as krapow you'd get at any restaurant. Definitely a pantry staple for a quick and delicious meal.
Welcome to Our House
@cylovesfrogs

@peggyeats

@deyasdishes

@platedbykrystal

@trinhdoesthings