Equipment
Ingredients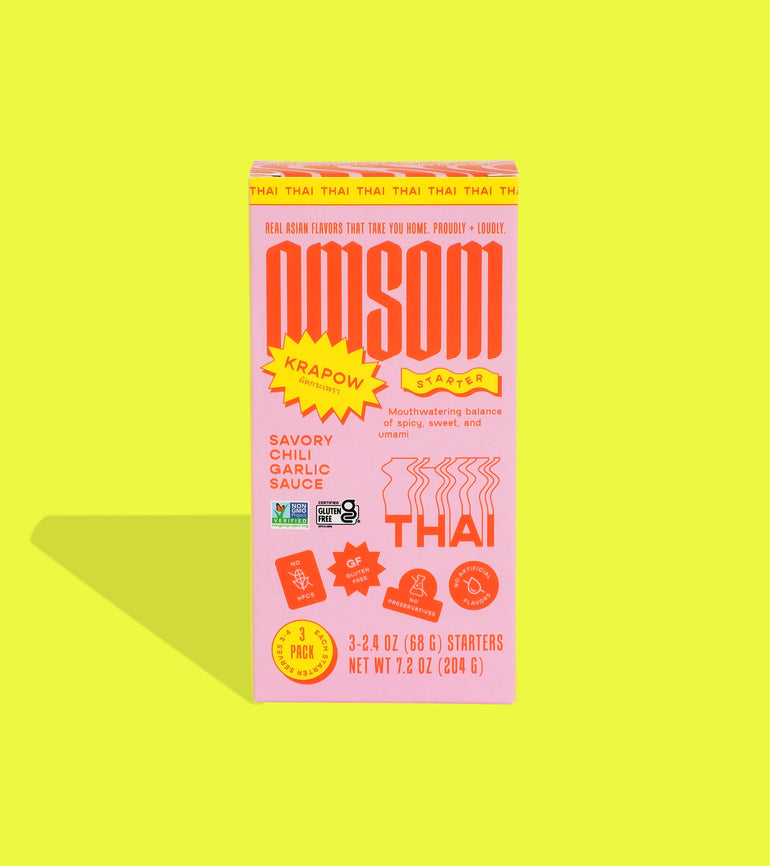 1 lb. ground pork — or chicken, turkey, plant-based meat
1 tbsp. neutral cooking oil — 1½ tbsp. for chicken, 3 tbsp. for turkey/plant-based meat
½ small yellow onion, sliced
½ cup green beans, trimmed + cut into 1-inch pieces
1 ½ cup basil leaves (Holy or Thai basil is traditional, but Italian works too!)
1-2 small sweet red peppers or ½ red bell pepper, thinly sliced (optional)
1 egg, fried Thai-style (optional)
Serve with:
Traditional: Serve with white rice, topped with Thai-style fried egg.
Mix it up: Serve with lettuce wraps and sliced cucumbers.
Instructions
In a large skillet, heat oil over medium high heat until shimmering hot. Turn down heat to medium, add the ground meat, stirring often and breaking up into small pieces. Cook until browned, about 3 minutes.
Toss in the onions and green beans. Cook until they've softened, stirring often, about 2 minutes.
Add the Omsom starter and stir to evenly coat everything in the skillet.
Add red peppers (optional) and roughly hand tear the basil into the skillet. Turn off heat and stir to wilt the basil.
Salt to taste and top with fried egg (optional).
You're done! Serve with some of our suggested favorites. Enjoy!