How to Make
Equipment
cutting board
large pot
knife
mixing bowl
skillet
rolling pin
glazing brush
Ingredients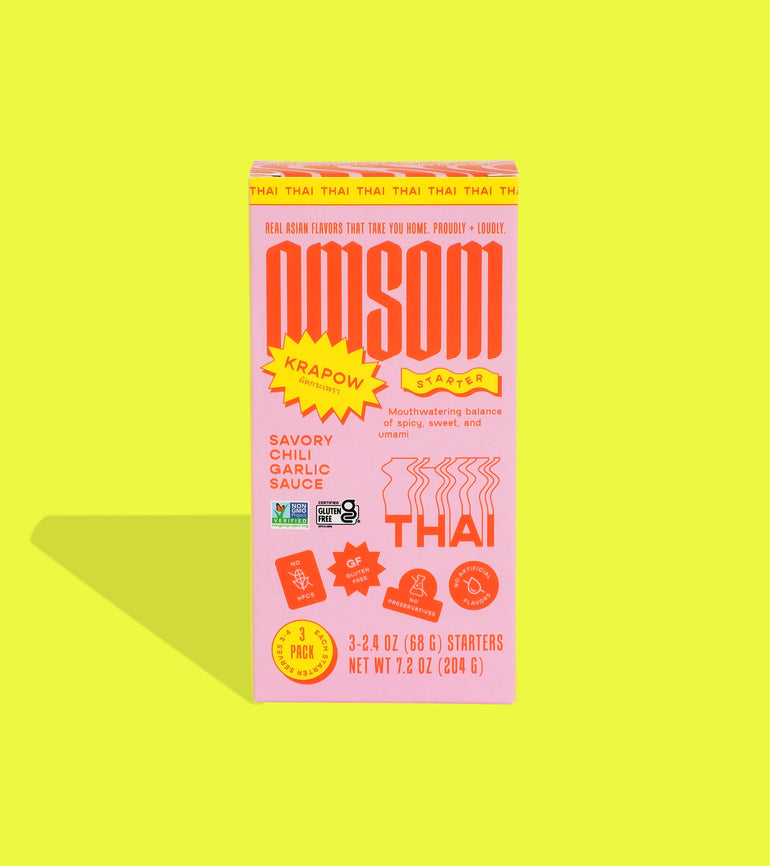 4 medium yukon gold potatoes, quartered and boiled
¼ cup mozzarella cheese, or melting cheese of your choice
¼ cup parmesan cheese
2 slices american cheese
1 ¼ cups all-purpose flour
3 tbsp. butter, at room temperature
½ cup whole milk, at room temperature
5 scallions, sliced
2 tbsp. sesame seeds

Instructions
Prep your bread!
In a bowl, mix flour, salt and half of the scallions. Once combined, add milk and 2 tbsp. butter, kneading until combined. (Pro tip: you will know you are done kneading your dough when it is smooth to the touch!)
Divide into two portions, form into balls, and cover with plastic wrap. Let sit at room temperature for 20 minutes.
Prep your potato filling!
Peel your potatoes and cut into quarters. Place in a pot of cold water then bring to a boil, letting the potatoes cook for 20 minutes or until soft.
Place potatoes in a bowl and mash with a fork until smooth. Mix in approximately half of the Omsom sauce (no need to be exact!), parmesan, and the remainder of scallions.
Make your cheesy bread!
Roll out dough into a 9'' circle. Spread half of potato filling in the middle, and top with mozzarella and american cheese. Fold the edges of the dough over the filling and pinch to seal, then roll dough out gently.
Add ½ tbsp. butter in a pan and cook bread until golden, approximately two minutes, then remove from pan. Add another ½ tbsp. butter and cook the other side of bread until golden. Brush on remainder of Omsom sauce, sprinkle with sesame seeds and slice to serve. Enjoy!