Equipment
medium pot or saucepan
large pan
Ingredients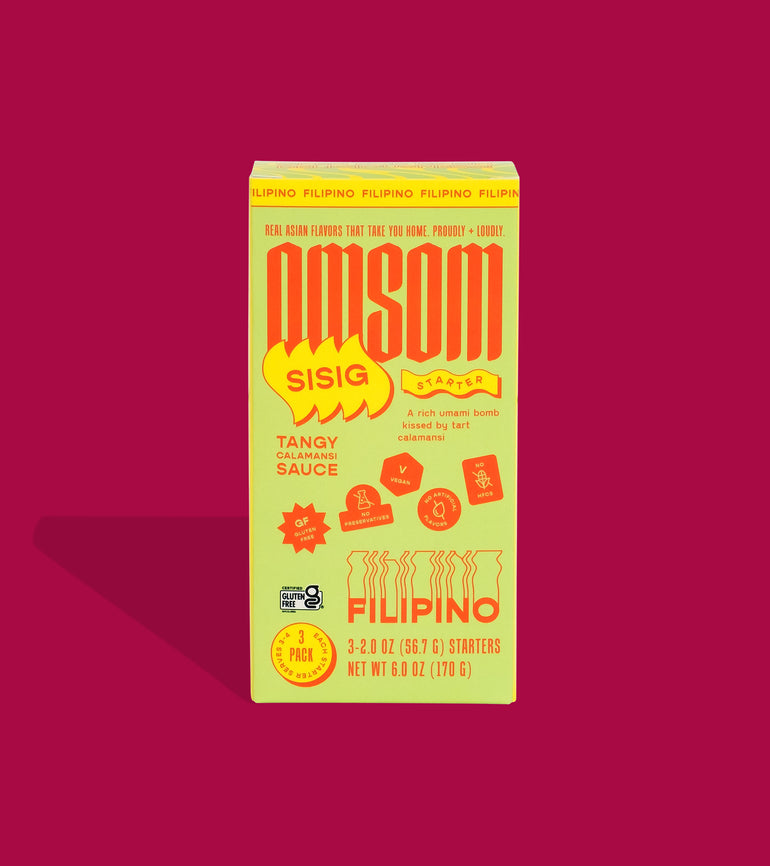 1 lb pork belly (with skin intact)

4 garlic cloves (whole)

cilantro (root + leaves)

1 red onion, thinly sliced

1⁄2 lime, juiced

1 ube, peeled and sliced semi-thick

Portuguese bread rolls

mayo

aji amarillo paste (or hot sauce of your choice)

Thai chili

neutral oil
Instructions
In a pot of boiling water, add garlic cloves, cilantro root, a hearty pinch of salt, and pork belly. Cook until pork is tender. Cut into thick slices.
Once cooled and lightly dried, heat oil + fry pork slices until golden and crispy.
Prepare the toppings: make salsa criolla by tossing red onion with lime juice, salt, chopped chili, and cilantro. Set aside. In a small bowl, combine mayo and aji amarillo paste and set aside.
Fry ube slices until golden. Set aside.
In a pan heated on medium-low, add Omsom starter, season with salt and pepper to taste, then add fried pork slices and toss in sauce to coat well.
Assembly: Slice bread rolls, spread spicy mayo on both slices, layer the sandwich: ube on the bottom, pork, and then salsa criolla. Enjoy!