Equipment
small mixing bowl
medium mixing bowl
large skillet
saucepan or rice cooker
rolling mat
Ingredients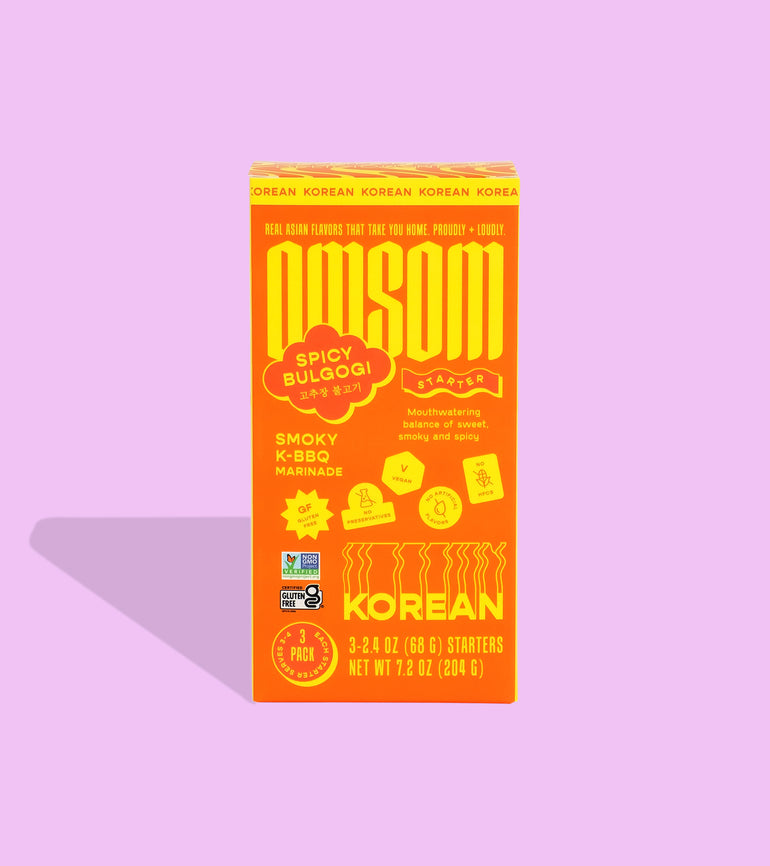 For the rice:
1 cup short-grain rice
2 tsp. toasted sesame seeds
1 tsp. toasted sesame oil
sea salt, to taste
For the kimbap:
¾ pound pork shoulder or collar, very thinly sliced
1 large bunch spinach, rinsed and pat dry
1 large carrot, cut into matchsticks
1 large shallot, thinly sliced
4-6 big, leafy pieces lettuce, ribs removed
1 Persian cucumber, cut into long strips
½ Korean pickled yellow radish, cut into long strips
1½ tsp. neutral cooking oil
1 tsp. toasted sesame oil, plus more for garnish
1 tsp. toasted sesame seeds, plus more for garnish
gim (seaweed paper)
sea salt, to taste
Serve with:
Sprinkle with a few more sesame seeds and serve with soy sauce for dipping for some extra damn delicious flavor!

Instructions
Prep your rice:


Place rice in a medium bowl, cover with cold water, gently swishing the rice with your fingers, and drain. Repeat the process until water runs clear.
Place drained rice in a saucepan along with turmeric, pepper, and 1¾ cups water, and stir to combine. Cover, bring to a boil over medium-high heat, reduce heat to low, and cook until rice is tender and cooked through (about 18 minutes). Turn off heat and let stand, covered, for 5 minutes. Alternatively, use a rice cooker.
Add sesame seeds, sesame oil, and salt to turmeric rice, stir to combine, and reserve.

Prep your protein + veggies:


While the rice is cooking, prepare cooked vegetable fillings and bulgogi. To make spinach, heat oil in a skillet over medium-high heat. Add spinach and cook, stirring occasionally, until wilted, tender, and any water has evaporated (about 2 to 4 minutes). Transfer spinach to a small bowl and let it cool for 5 minutes. If spinach still looks watery, gently squeeze out excess liquid and return to the bowl. Add sesame oil, sesame seeds, season with salt, to taste, and reserve.
Heat skillet over medium-high, add carrots, and cook until they just start to become pliable, but still retain an al dente bite (about 1 to 2 minutes). Transfer to a small bowl, season with salt to taste, and reserve.
Stir the Omsom Korean Spicy Bulgogi Starter and Sirārakhong Hāthei chilis in a medium bowl and mix well. Add sliced pork and shallots, massaging the sauce into the meat.
Pro tip: You can buy pork shoulder or collar sliced for bulgogi at your local Korean market, or you can also find thinly sliced pork for shabu-shabu at Japanese markets as well. Alternatively, you can slice the pork yourself: First, freeze the piece of pork shoulder for 15 to 20 minutes, then thinly slice, against the grain, with a sharp knife.
Return the skillet to high heat and heat until the pan is almost smoking. Add dressed meat and shallots, spreading them into a single layer, and cook undisturbed until meat starts to brown and caramelize (about 4 minutes). Stir and continue to cook until meat is cooked through (about another 4 minutes). Turn heat off and leave meat in the skillet.


Let's assemble!


To assemble gimbap, place a piece of gim shiny side down on a bamboo rolling mat. Take ¼ of the rice and spread it in a thin, even layer over the gim, leaving a 1½-inch strip at the top. Arrange your vegetables and meat across the lower part of the rice-covered gim, leaving ½-inch strip uncovered at the bottom. Start with some lettuce, then some bulgogi, sesame spinach, a few strips of pickled radish and cucumber, and finish with some carrots.
Lightly wet the naked part of the gim with your fingers, then gently roll the bamboo mat up and away from you, using your fingers to keep the filling in place, so the rice and gim start to wrap around the fillings. Pushing the mat as you roll, continue to roll until roll is fully sealed. Grab the mat with both hands, pulling back slightly and then squeezing to tighten the center and ends of the roll. Set the finished roll aside and repeat with remaining gim, rice, and fillings.
Brush the tops of the finished gimbap with a little extra sesame oil and sprinkle with sesame seeds, then using a sharp knife, cut each roll into 6 to 8 pieces. (It helps to wipe down the knife between every few slices to maintain a beautiful, clean midsection.)
Arrange sliced gimbap on a platter + enjoy!