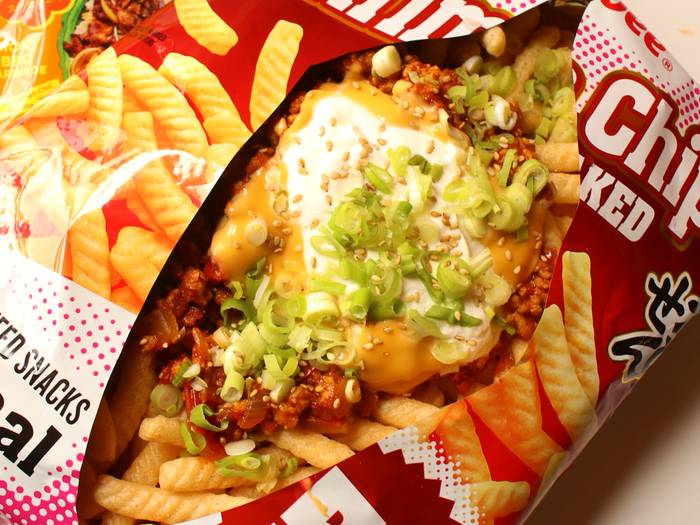 Spicy Bulgogi Frito Pie
Ingredients
1 Ib. ground pork
1 bag of shrimp Chips
1 12 oz. can whole tomatoes
2 tbsp. tomato paste
½ cup dark soda
4 garlic cloves, minced
1 yellow onion, diced
2 scallions, sliced (reserve for garnish)
2 tbsp. neutral oil
salt and pepper to taste
1 slice American cheese (optional)
sour cream (optional)
sesame seeds (optional)
Serve with:
Instructions
Recipe from community member, Hanna (@hanseabright).

Let's get cooking!
In a medium pot, turn heat to medium and add oil. Cook onion and garlic, reserving some onion for garnish.
Once aromatics are translucent, add tomato paste. Let fry in oil for a minute, then stir to combine.
Toss in pork, stirring until cooked through. Add Omsom sauce and mix to break up the meat.
Add soda and let cook for two minutes, then add crushed tomatoes. (Pro tip: add soda to the empty tomato can and swirl to get more tomato flavor!) Season to taste with salt and pepper.
Turn down heat until chili is simmering and let cook for 20 minutes. Take off heat.
Let's assemble!
Place shrimp chip bag on a plate, label side up. Use a knife to make a vertical slit from the top to bottom, exposing chips inside.
Scoop chili on top of chips, roughly 2 cups.
Immediately top with American cheese so it melts. Follow with a dollop of sour cream, scallions, and sesame seeds.
You're done. Enjoy!