Equipment
medium and large mixing bowls
grill or grill pan
6 bamboo skewers (soak for 45 minutes + pat dry before grilling)
ice cube tray
Ingredients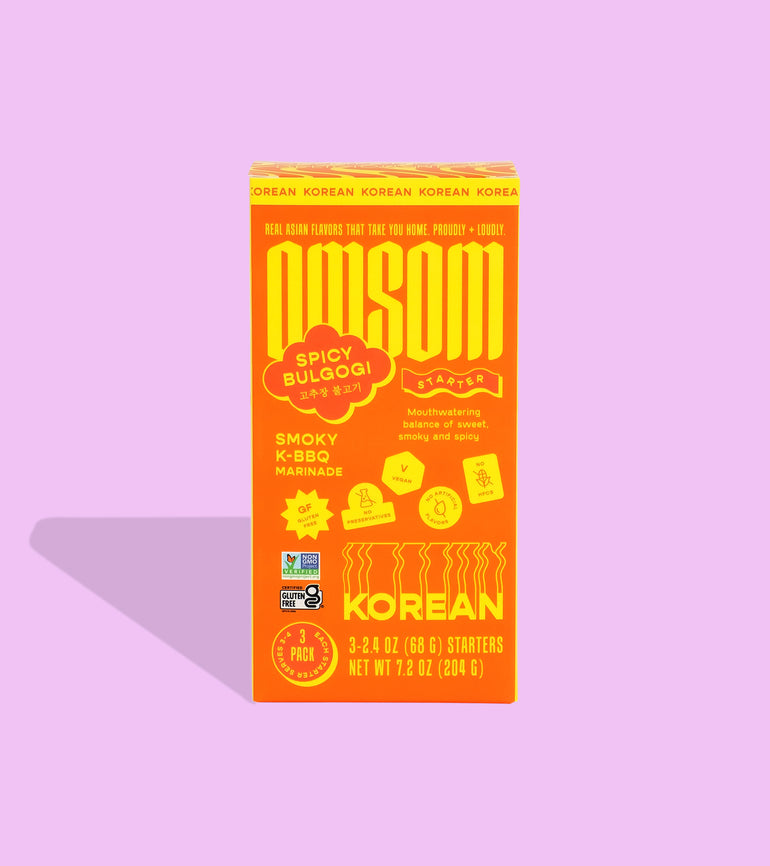 8 oz. full fat coconut milk (half of 1 can)
2 cloves garlic, grated
1 in. ginger, grated
2 limes (1 zested, ½ juiced, ½ for serving)
1½ tsp. kosher salt
1 lb. boneless skinless chicken thighs, cut into 1½-inch pieces
10 scallions, thinly sliced
2 kirby cucumbers, thinly cut
½ jalapeño, thinly sliced
¼ cup cilantro leaves and tender stems, roughly chopped
2 tbsp. neutral oil (like grapeseed oil)
1½ tbsp. rice wine vinegar
2 tsp. honey
Instructions
We collab'd with our friends at Misfits Market on this recipe so that you can enjoy damn delicious food in the sunshine ☀️ Misfits Market is an affordable online grocery service offering organic produce, sustainably-sourced kitchen essentials, and high-quality meats + seafoods for up to 40% cheaper than traditional grocery stores. They help break the cycle of food waste and aim to fix a broken food system!
In a large bowl, combine the Omsom starter, coconut milk, grated garlic and ginger, lime zest, juice of ½ a lime, and salt.
Add chicken thighs to the mixture and toss to fully coat. Cover and let marinate for at least 1 hour at room temperature or overnight in the fridge for even bolder flavor.
For the salad, place thinly sliced scallions in an ice bath for 10 minutes to allow them to curl. Remove from ice bath, pat dry, then add scallions to a medium bowl with cucumbers, jalapenos and cilantro.
In a separate small bowl, whisk oil, rice wine vinegar, and honey to combine. Season with salt to taste. Set aside until ready to serve.
Prepare grill for medium-high heat, about 425 degrees. Thread 6-8 pieces of chicken onto each skewer. Grill, turning occasionally until chicken is fully cooked, 8-10 minutes.
Cut remaining ½ of lime into wedges. Toss the salad in dressing and serve immediately with chicken skewers (be careful: they're hot!) and lime wedges. Enjoy!