Equipment
stock pot
pan
mixing bowl
serving platter
serving platter/sheet tray
Ingredients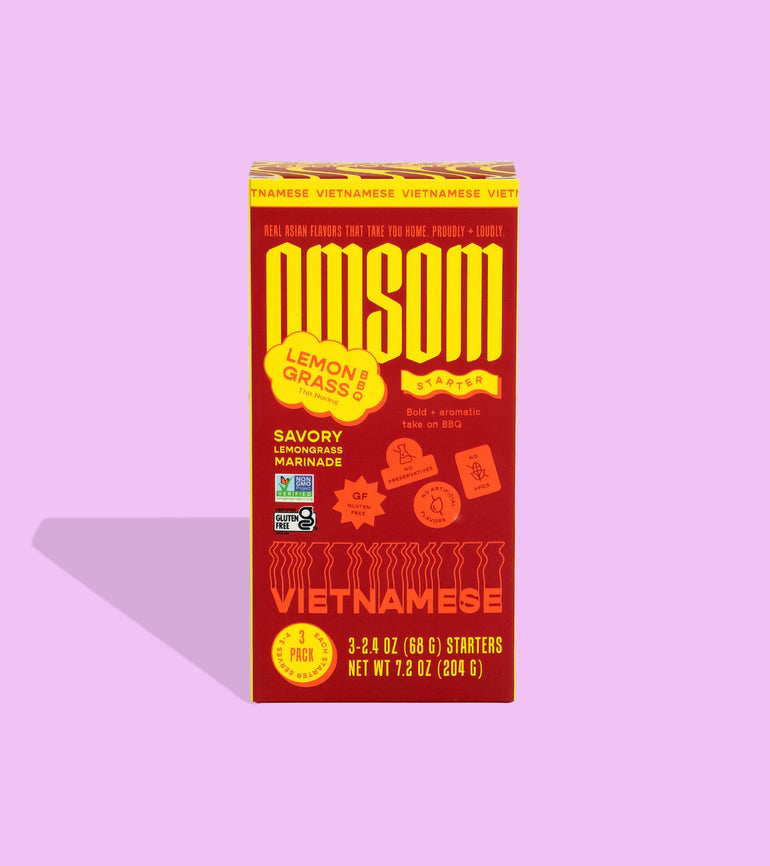 1 Ib. shrimp, ideally shell on, with head and tail
1 Ib. clams, scrubbed and cleaned
2 crab legs, pre-cooked
1 smoked sausage, cut into 2'' pieces on the diagonal
4 cups water
3 ears of corn, halved
1 Ib. baby red potatoes, halved
1 lemon, quartered
1/2 cup cilantro sprigs, picked
3 tbsp. Cajun seasoning
3 tbsp. Old Bay seasoning
1 stick unsalted butter
Serve with:
Best served with beer and a bib! Can use plastic gloves for eating.

Instructions
Prep your broth!
Combine water, 1 packet of Omsom sauce, and Cajun + Old Bay seasoning in a stock pot. Bring to a boil for a few minutes, then reduce to a simmer.
Prep your dipping sauce!
Melt butter in saucepan over medium heat, then add remaining packet of Omsom sauce. Over heat, stir until combined for ~1 minute to activate flavors. Turn off heat and squeeze one lemon quarter into sauce and combine. Set aside for later!
Let's get cooking!
Add potatoes to broth at a mild simmer. Cook for ~5 minutes. Add sausage and cook for another 5 minutes. Finally, bring broth to a ripping boil, then add clams, shrimp, crab legs, and corn. Cover and cook for ~4 min until shrimp is pink and clams have opened.
Strain ingredients and put into a mixing bowl. Toss with approximately half of the Omsom butter sauce, reserving the rest for dipping. Serve on a platter and garnish with cilantro and lemon wedges. Enjoy!