Equipment
small bowl
whisk
medium pot
cutting board
chef's knife
rolling pin
pastry brush
heavy bottom pot
plate
bamboo skewers
Ingredients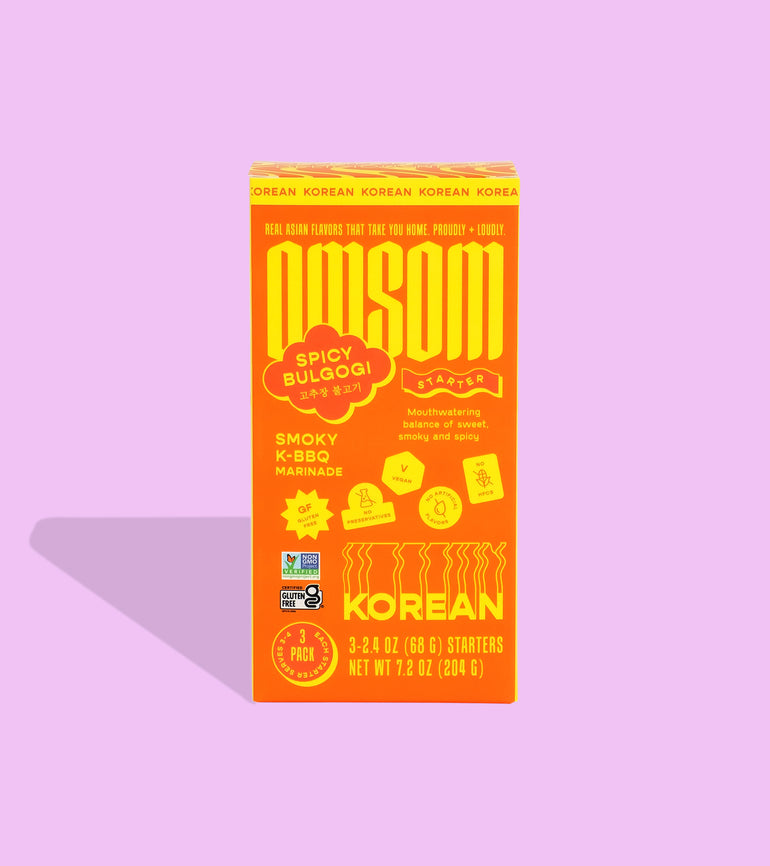 4 medium-sized hot dogs (we like beef sausages)
4 slices white bread (Wonderbread works well)
2 eggs
4 slices of mozzarella cheese
1 cup bread crumbs (add more if needed)
3 cups neutral cooking oil
bamboo skewers (optional)
Serve with:
Enjoy with your preferred condiments + sprinkle with sugar for added texture + sweetness!
Instructions
Prep your protein:


Crack eggs into a bowl, and whisk together to create an egg wash.
Boil hot dogs according to instructions, and set aside to cool down.
Cut off crusts of the sliced white bread, and flatten bread using a rolling pin until very thin.
Brush the edge of flattened bread with egg wash, and spread some of the Omsom starter on bread. Layer with shredded mozzarella cheese.
Place hot dog on top of cheese near the edge of bread closest to you. Roll bread around hot dog like a burrito, and pinch the sides to seal.
Dip the assembled corn dog into the egg wash, and then coat with bread crumbs.
Let's get cooking!


Heat oil in a heavy-bottom pot on high. Once hot, fry corn dogs on medium heat for 2-3 minutes, until golden. Remove from pot and dry corn dogs on a paper-towel lined plate.
Skewer corn dogs with bamboo sticks (optional). Serve and enjoy!