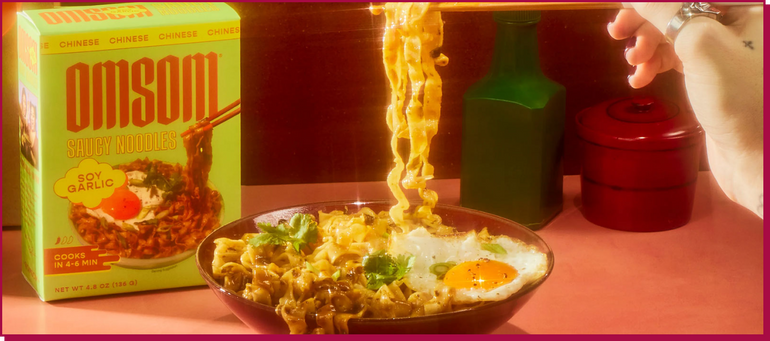 Restaurant-Quality Saucy Noodles
Enjoy Proud + Loud Asian flavors curated by iconic Asian chefs from the comfort of your home
Air-dried, never fried noodles
Ready in 4 minutes
No artificial flavors
Vegan + vegetarian friendly options
Meet The Tastemakers
Meet The Tastemakers
"Omsom sauce kits are one of the best cooking products we've ever tasted."

"Omsom completely transformed my home cooking."

"The Asian pantry brand that saves our dinners, time and time again."

Best Noodles & Sauces!
I ordered a case of these, and we ate enjoying all! I just shared one box with a friend who can't wait to try! I also ordered the sauce collection! Love trying different "mix ins" for each flavor.
10/10
An affordable customizable flavor bomb. Can't get enough!!
Wonderful!
I love them! Got some to try, liked them so much got some for family and friends.
Delicious and easy to cook
I love these noodles that are easy to cook and the sauces are sooo yummy! I also like that I can throw in any vegetable and/or protein to change the meal in many different ways. Highly recommend!
So delicious and convenient!
Having these saucy noodle kits at home makes my life so much easier. I just prep some veg and/or protein, add it in, and I have a ridiculously delicious meal that takes me hardly any time at all! My favorite flavors are the Garlic Black Pepper and Cocnut Lemongrass Curry. Will definitely be ordering more!
So Glorious
Just enjoyed the Garlic Black Pepper noodles. Was absolutely broken-hearted over the last bit I licked from the bowl. Cannot wait to dry the rest of my bundle. Great noodles. Fabulous sauce. I love these so much!!